Schools Improvement
The Blue Tangerine Federation exists as two learning disabilities schools - The Collett School and St Luke's School, which also contains the department, Forest House Education Centre; Hertfordshire's Mental Health Hospital School.
The Federation Improvement and Development Plan both leads and reflects the individual schools' Action Planning and Self Evaluations.
The Three Year Strategy for the Federation
The Blue Tangerine Federation Development & Improvement Plan
Link to FHEC's Self Evaluation
Context
Most children with special educational needs (SEN) go to mainstream schools
Most children with special educational needs (SEN) go to mainstream schools, with less than 10% attending special schools in the UK:
In England in 2018, 9.3% of pupils with SEN attended special schools (DfE 2018).
In Northern Ireland in 2018/19, that figure was 7.8%. (DENI 2019)
In Wales in 2017/18, that figure was 4.6%. (StatsWales 2018)
In Scotland in 2018, 3.5% of pupils with additional support needs attended special schools. (Scottish Government 2018)
Money & families of children and young people with SEND
Children and young people with a disability are more likely to live in poverty than those without a disability (Emerson, 2012; PHE 2015).
Pupils with SEND are more likely to be eligible for free school meals than pupils without SEND. In January 2018, 13.6% of all pupils in state-funded schools were eligible for and claiming free school meals. However, rates were much higher for children with a learning disability:
among children with a moderate learning disability 27.5% at SEN support and 36.2% with statements/EHC plans were eligible for and claiming free school meals
among children with a severe learning disability 29.1% at SEN support and 34.1% with statements/EHC plans were eligible for and claiming free school meals
and among children with profound and multiple learning disabilities 22.0% at SEN support and 28.3% with statements/EHC plans were eligible for and claiming free school meals (Public Health England, 2019a)
Raising a child with a disability involves extra costs, with 33% of families facing extra costs of over £300 per month for their disabled child or £64,800 from birth to 18 years. Over half (56%) of families say that these extra costs are only partly covered by their disability benefits (Contact a Family, 2018).
Adults with Learning Disabilities
There are approximately 1,130,000 adults with a learning disability in the UK.
Employment
DfE: The number of adults with a primary support reason of learning disability in any paid or self employment was recorded as 7,472 people in 2014 to 2015 and increased slightly to 7,907 people in 2017 to 2018.
Above Table: Number of working age (18 to 64 years) adults with learning disabilities engaged in any paid/self-employment 2008/09 to 2017/18
DfE: The overall paid or self-employment rate for working age adults with learning disabilities reached a peak at 7.1% in 2011 to 2012, and was at 6% in 2017 to 2018.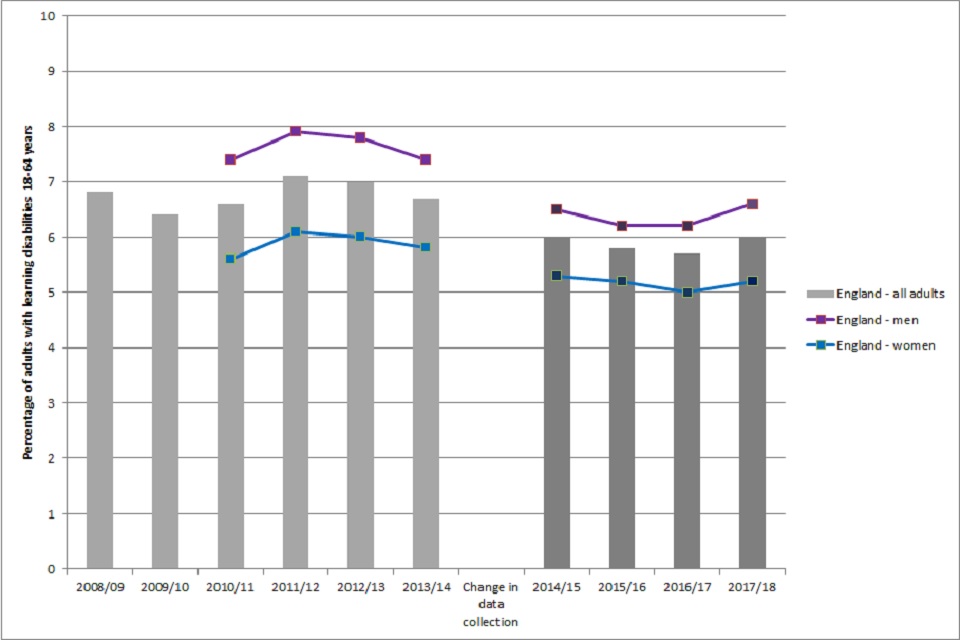 Above Table: The percentage of working age adults with learning disabilities (18 to 64 years) who are in any paid/self-employment 2008/09 to 2017/18
DfE: 2017-18, 6% of working age adults with a primary support reason of learning disability were in paid or self-employment, 10.5% were not in employment but actively seeking work - and over half (55.5%) were not in employment and not actively seeking work. The employment status of over a quarter of adults with a primary support reason of learning disability (27.9%) was recorded as unknown.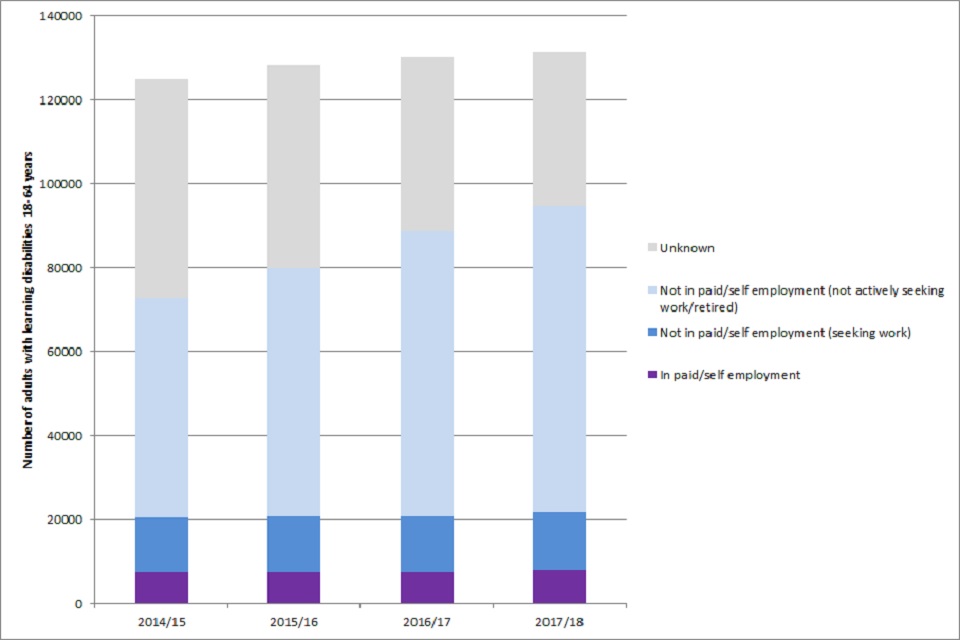 Above Table: Employment status of adults with learning disabilities of working age (aged 18 to 64) in and out of work.
Addressing the Needs and Wants of Our Children and Their Families
Children with SEND often aspire to the same sort of outcomes as non-disabled children. However, what
these outcomes meant, the way they are prioritised, and the level of achievement expected, often differs from non-disabled children.
Outcomes in certain areas of children's lives – physical and emotional well-being, communication and safety are seen as fundamental and need to be addressed before other outcomes can be achieved.
Being able to communicate
Being able to communicate is fundamental to meeting desired outcomes in other areas of life for
all groups. Children and parents highlight the importance of other people who have regular contact with the child (including parents and siblings, teachers, hospital staff, carers and peers) having the knowledge and skills to understand the child's means of communication. Apart from giving the child a 'voice', having the ability to communicate is seen as opening doors to more opportunities, such as socialising, being active and becoming more independent, which in turn help promote a child's feeling of security and self-esteem.
Keeping Children Safe

Keeping children safe from exploitation, abusive relationships or physical danger, and the difficulties this poses when children receive care from a number of people, cannot communicate well or lack any sense of danger, is emphasised by parents.. Staying safe is also talked about in terms of preventing the child having accidents. There were different reasons why children might be vulnerable to accidents including using inappropriate or unsafe equipment, living in unsuitable housing and/or requiring high levels of supervision.
Enjoying and achieving encompassed various inter-related areas:

Socialising and having friends was a priority for many children and their parents. However, parents of children with ASD recognise that to have friends their children would first need to have the desire to interact. The lack of contact with school friends out of school was seen as a barrier to achieving friendship, and is a source of considerable frustration for some children.
Activities and experiences
Having interests and being able to participate in activities is something parents want for their child. Many are concerned that their child's 'world' was restricted to home and school, and they want their child to have greater variety and opportunities. Most parents express the desire for their children
to participate in mainstream activities in their local community. The exception was some parents of children with degenerative conditions who reported their children were no longer able to cope with such situations. Many children also express a desire to be 'doing more'. The lack of accessible or appropriate facilities and/or the lack of support to assist the child mean that taking part in mainstream activities can often be very difficult.
Education and learning
Parents' aspirations for their child's education varies according to the severity of the condition and associated learning difficulties. All parents want their child to fulfil their learning potential. For
those with limited cognitive abilities, acquiring self-care and living skills and enjoying a stimulating environment is often prioritised over academic achievements. However, for children with greater cognitive abilities, parents want their child to at least achieve basic skills such as reading, writing and number skills. Children with complex health conditions do not want their schoolwork to be affected by having time off due to ill-health or for treatments.
Self-care and life skills
While for non-disabled children independence is often seen as the child being able to do something without help, for many disabled children, this is not achievable in certain areas of their lives. Managing
self-care tasks as independently as possible, with or without support, was a key priority among many children and parents.
Independence is often seen in terms of children reaching their potential in carrying out life skills with or without support. The life skills children want to acquire include being able to make snacks, go out alone, handle money and manage unforeseen circumstances when out and about.
Feeling loved, valued and respected
Parents want their children to feel that they were loved and that what they wanted matters. Treating the child as an individual, involving the child in making decisions about his/her life, and respecting the child's privacy (in a way appropriate to their age) were among things said to make children feel valued.
Identity and self-esteem
For many children feeling 'normal' can be important and this tends to be linked to being accepted
by their peer group. 'Looking good', wearing similar clothes to others and being able to use attractive equipment (boots, wheelchair etc.) contribute to how they feel about themselves. Parents want services to be more sensitive to the child's identity and social integration when issuing with equipment, making sure that it is attractive whilst still offering appropriate support. They also stress the importance of the child experiencing success, and having their achievements recognised.
Making a positive contribution
Being part of the local community: having the same access to opportunities and activities as non-disabled children and being part of the local community was important to many children and parents across all groups. However, for children who attend special school, the location of the child's school and the inaccessibility of local facilities can often mean children do not participate in local community-based activities.
Feeling involved and having the opportunity to exercise choices: being involved in decisions that affect their lives was important for many children and their parents. This ranges from choices about what to wear, how and where they spend their time, planning for the future and decisions about their care and treatments.
Economic well-being; having a job and earning money in adulthood is seen as important by young people with good cognitive ability and their parents. Employment opportunities and support, and access to transport are seen as key factors in achieving these outcomes. Parents of young people with more limited understanding want them to be meaningfully occupied and be able to contribute something when they become adults.
Not all disabled children will be able to make an economic contribution and families with disabled children are more likely to be living in poverty than other families, so the presence of adequate levels of benefits is important.
Our School Councils
Our School Councils and Prefects work with adults in the school and their peers to:
identify issues in and outside of school that affect young people
raise awareness within school about local, national and international issues
raise awareness in school about issues affecting learning, social and emotional needs
canvass opinion of the school body
raise suggestions and ideas with school leaders about making improvements
undertake activities and theme day leadership with support, to involve our school community
promote aspects of fairness, tolerance compassion, supporting British values
act as modellers of these values
promote the school and our shared values to visitors and our wider community
Asset Management Planning (updated November 2020)