Covid-19
RISK ASSESSMENTS are found at the bottom of this page.
From 1st April 2022:
Regular asymptomatic testing is no longer recommended in any education or childcare setting, including in SEND, alternative provision and children's social care settings. Therefore, settings will no longer be able to order test kits.
Many people will no longer be infectious to others after 5 days. You may choose to take an LFD test from 5 days after your symptoms started (or the day your test was taken if you did not have symptoms) followed by another LFD test the next day. If both these test results are negative, and you do not have a high temperature, the risk that you are still infectious is much lower and you can safely return to your normal routine. Report your LFD test results after taking each test.
How to safely return to your normal routine before 10 days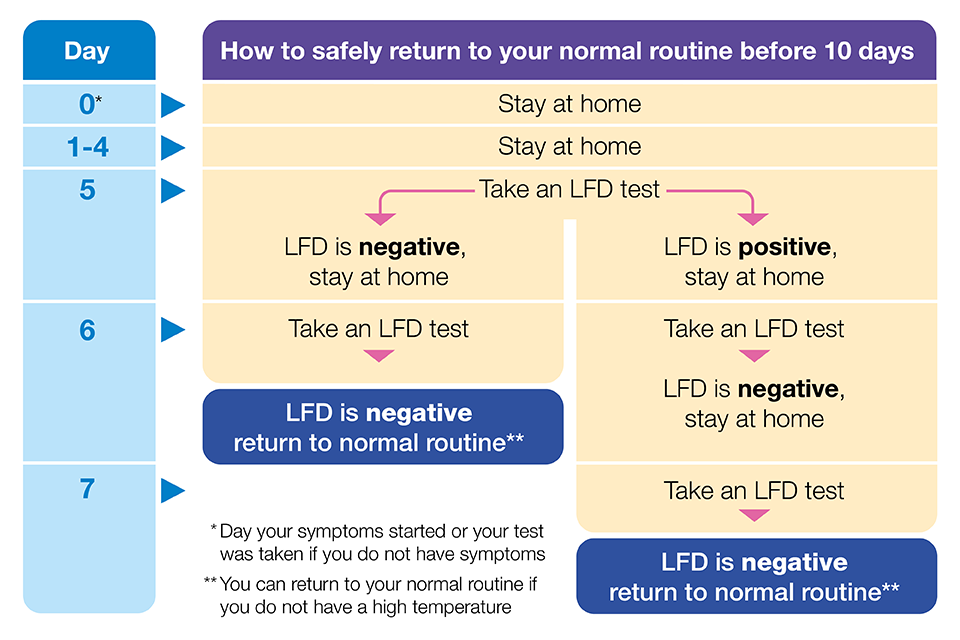 If your day 5 LFD test result is positive, you can continue taking LFD tests until you receive 2 consecutive negative test results.
Children and young people with COVID-19 should not attend their education setting while they are infectious. They should take an LFD test from 5 days after their symptoms started (or the day their test was taken if they did not have symptoms) followed by another one the next day. If both these tests results are negative, they should return to their educational setting if they normally attend one, as long as they feel well enough to do so and do not have a temperature. They should follow the guidance for their educational setting.
7 March 2022
Children aged 5-11 years
Children aged 5 to 11 years who are in a clinical risk group or who live with someone who is immunosuppressed can get the COVID-19 vaccine, in line with advice set out by the Joint Committee on Vaccination and Immunisation (JCVI). Eligible children include those with diabetes, immunosuppression, learning disabilities, and other conditions as outlined by the UK Health Security Agency (UKHSA) in the Green Book.
Vaccinations help to increase protection against COVID-19, which is particularly important for those with underlying health conditions.
Further information is available in the guide for parents of children aged 5 to 11 years published by UKHSA. We have published some frequently asked questions on the vaccination programme including information on eligibility, accessibility and advice for parents of children at high risk from COVID-19. Following advice from the JCVI, healthy 5 to 11 year old children will also be offered two 10 microgram doses of the COVID-19 vaccine. The NHS will prepare to extend this non-urgent offer to all children during April.
9 January 2022:
From Thursday 20 January, face coverings are no longer recommended in classrooms and teaching spaces for staff, and pupils and students in year 7 and above. They were introduced in classrooms at the start of the spring term as a temporary measure.
From Thursday 27 January, face coverings are no longer recommended in communal areas for staff, and pupils and students in year 7 and above.
As a federation, we will not require you to wear a face covering from Thursday 27th January around communal areas of the school. We will however, respect the individual's choice in continuing to wear a face covering, should they wish to.
January 13th 2022
Changes to the self-isolation period for those who test positive for COVID-19
From Monday 17 January, people who are self-isolating with COVID-19 will have the option to reduce their isolation period after 5 full days if they test negative with a lateral flow device (LFD) test on both day 5 and day 6 and they do not have a temperature. For example, if they test negative on the morning of day 5 and the morning of day 6, they can return to their education or childcare setting immediately on day 6.
The first test must be taken no earlier than day 5 of the self-isolation period, and the second must be taken the following day. All test results should be reported to NHS Test and Trace.
If the result of either of their tests is positive, they should continue to self-isolate until they get negative results from two LFD tests on consecutive days or until they have completed 10 full days of self-isolation, whichever is earliest.
Anyone who is unable to take LFD tests or anyone who continues to have a temperature will need to complete the full 10 day period of self-isolation.
Further information on self-isolation for those with COVID-19 is available.
Testing
All educational and childcare settings should continue to encourage staff and students to test twice weekly using lateral flow device (LFD) tests.
Vaccination
Vaccines are our best defence against COVID-19. They help protect young people and adults, and benefit those around them. Vaccination makes people less likely to catch the virus and less likely to pass it on.
To book a vaccination, please visit: Book or manage a coronavirus (COVID-19) vaccination – NHS (www.nhs.uk).
Covid-19 Outbreak Management Plans
The Impact of Covid-19 on Children and Young People
Many families have found it hard to cope with the isolation, loss of routine, anxiety about the future or a disruption to education/work
Children of all ages have been experiencing unprecedented gaps in learning, with vulnerable children and young people less likely to have the support or equipment to engage in home learning
Many children and young people with SEND found the disruption to their learning routine challenging. This may not only impact on their long-term educational achievement but also increase their risks of exploitation
In a survey of almost 1300 Hertfordshire secondary school pupils in early 2021, 33% felt their wellbeing was worse than before the pandemic with a more pronounced decline among LGBTQT+ young people
Many young people have also expressed how hard they found home schooling; feeling overwhelmed and finding it difficult to concentrate
October 2021: Covid-19 NHS Vaccinations for 12-15yr old pupils at our schools
October 2021
Covid-19 Vaccinations
A voluntary NHS COVID-19 vaccination programme for children aged 12 to 15 has taken place. Only children where parental permission has been given took place with one injection of the Pfizer vaccine.
The Collett School, Wednesday 6th October 2021 circa 50% had the vaccination
St Luke's School on Monday 20th September 2021 circa 42% had the vaccination
FHEC - no visit
Clinically Extremely Vulnerable Children and Young People (Updated Sep 2021)
DFE (August 26th 2021): Important information about clinically extremely vulnerable children and young people
Clinical studies have shown that children and young people, including those originally considered to be clinically extremely vulnerable (CEV), are at very low risk of serious illness if they catch the virus. The UK Clinical Review Panel has recommended that all children and young people under the age of 18 should no longer be considered CEV and should be removed from the Shielded Patient List, the national database of people considered clinically extremely vulnerable.
All children and young people should continue to follow the same guidance as everyone else, which can be found at www.gov.uk/coronavirus. For a very few individual children specific clinical advice may be given and this should continue to be followed.
The Department for Health and Social Care have developed an FAQ that can be accessed online.
Covid Testing Collett and St Luke's Schools (Updated Sep 2021)
Covid Testing resources for pupils:
Covid Test picture explanation
Click here for a free online book that supports children to understand Covid, illustrated by Axel Scheffler (The Gruffalo)
August 2021: Changes to the types of lateral flow device (LFD) self-test kits for testing at home
NHS Test and Trace are introducing new types of test kits for at home weekly testing of staff and students. If you have ordered test kits for use at home, you should expect to receive either Innova (throat and nose swabs), Orient Gene or Acon-Flowflex (nasal only) self-test kits.
As with Orient Gene tests, Acon-Flowflex tests involve double nasal swabbing only – a throat swab is not needed. The instructions on how to use each of these types of self-test kits for use at home can be found in the test kit packaging.
Settings should continue to use any remaining Innova self-test kit stock and only order additional test kits when stocks start to run low. Orient Gene and Acon-Flowflex self-test kits for at home testing are supplied in boxes of 7 to enable testing for 3.5 weeks.
August 2021: COVID-19 vaccination for 16 to 17 year olds
The Joint Committee on Vaccination and Immunisation (JCVI) advised that all 16 to 17 year olds should be offered a first dose of the Pfizer-BioNTech vaccine and the government has accepted this advice.
As previously advised by JCVI, those 12 to 17 year olds with specific underlying health conditions that put them at risk of severe COVID-19 should be offered two doses of the Pfizer-BioNTech vaccine. Those 12 and over who live with an immunosuppressed person should also continue to be offered two doses of the Pfizer-BioNTech vaccine. This is to indirectly protect their immunosuppressed household contacts, who are at higher risk of serious disease from COVID-19 and may not generate a full immune response to vaccination.
JCVI has also previously recommended an ongoing offer of vaccination to 17 year olds within 3 months of their 18th birthday. This group will remain eligible for two doses of the Pfizer-BioNTech vaccine.
The JCVI is not currently advising routine vaccination of children outside of these groups, but will keep their advice under review as more evidence becomes available on the use of COVID-19 vaccines in children and young people.
Covid 19 Contingency Planning Safeguarding Emergency Guidance
Covid 19 - Guidelines for visitors (Updated Sep 2021)
Although no longer mandatory, visitors to our schools are kindly asked to wear a face covering and wash their hands/ sanitise with alcohol hand sanitiser once they arrive.
For the avoidance of potential embarrassment, we would also like to advise you that our schools are currently operating a 'no handshake' policy for all members of it's community.
Gov.uk and Department for Education (DfE) Guidance
Does your child have Covid-19 symptoms? (Updated Sep 2021)
What are Covid-19 symptoms?
A raised temperature
A loss of smell and taste
A continuous, new cough
We have spoken to PHE about the difference between a cough and a Coronavirus cough as we expect coughs and colds over the Autumn and Winter months . They advised that: 'if the pupil can't stop coughing for up to an hour (continuous) up to 3 times a day, then it is likely to be a Coronavirus cough, and they will need to self-isolate and have a test.' Coughing doesn't seem to solve the tickle.
Children with symptoms should not come to school but instead, get a test.
When the test result is known then school should be informed.
A positive Covid-19 test:
If the result is positive, the child stays at home to self-isolate for 10 days minimum. In addition, the child must not be in school 48hrs after the last symptoms have shown. Depending on the severity, this may be several days.
You notify school.
What if my child only starts to show Covid-19 symptoms during the school day?
Should your child have symptoms during the school day, you will be asked to collect them straight away from a 'quarantined' area of the school, where staff will be waiting with the child, in the same room. You should immediately get your child and your household tested as well and let the school know the outcome.
Self-Isolating - Quarantining
Self-Isolating means staying at home; quarantining.
Your child should not come to school and you should not go to work.
As we enter the normal cold and flu season, there is an expectation that we will see a number of pupils self-isolating with symptoms that are associated with Covid-19, and even more who are self-isolating as a result of someone in their household having symptoms.
A Staff Member's Personal Story of Covid-19
Karen Thorp, one of our senior teachers at The Collett School was in a serious condition with Covid-19 this summer. Here, she was asked to write an account for Addenbrooks Hospital and has given us permission to share her story on our website. If you have a story you wish to share, please let us know; mary.ellis@bluetangerine.herts.sch.uk. Click: Karen's Covid-19 Story
Schools' Risk Assessments
Covid-19 Risk Assessment: September 2021
Covid-19 Risk Assessment: May 2021
Covid-19 Supplementary Conditions for Hire and use of school premises by HCC: April 2021
Covid-19 Risk Assessment: March 2021
Covid-19 Risk Assessment: End of January 2021
Covid-19 Risk Assessment: January 2021
Covid-19 School Risk Assessments: October 2020
Covid-19 School Risk Assessments: September 2020
Covid-19 School Risk Assessments: June 2020