SEND
Our schools' SEND Policy and Information Reports:
Cognition and Learning defined
Cognitive processes are mental processes: thinking, attention, memory, language, learning, reasoning, problem solving and decision making.
Learning refers to the child or young person's acquisition and application of new knowledge and skills.
Types of learning difficulties and disabilities.
'General learning difficulties' can be across most of the curriculum whereas 'specific learning difficulties' affect parts of the curriculum.
Mild learning difficulties: Below the expected rate of attainment; up to two years behind national expectations.
Moderate learning disabilities (MLD): Attainment is more than two years behind national expectations despite targeted adaptations to curricula. There may be speech and/or language. Developmental delay and the child of young person may also have poor social skills and/or may show signs of emotional and behavioural difficulties.
Severe learning disabilities (SLD): Attainment is more than three years behind expected level despite differentiated learning opportunities and concentrated support. They will have difficulty with both the acquisition of skills and applying these skills to new situations. Additional difficulties with social tasks such as communication, interaction and self-care may also be present.
Profound and multiple learning disabilities/ Profound Neurological Impairment (PNI): Profound learning difficulties with cognitive impairment profoundly restricting access to the curriculum and requiring specialist provision.
Specific learning difficulties (SpLD): SpLD is an umbrella term for a certain group of learning difficulties. This includes a range of conditions such as: Dyslexia · Dyscalculia · Dyspraxia
Hertfordshire Local Authority
Hertfordshire: Explaining Personal Budgets
Hertfordshire information on Elective Home Education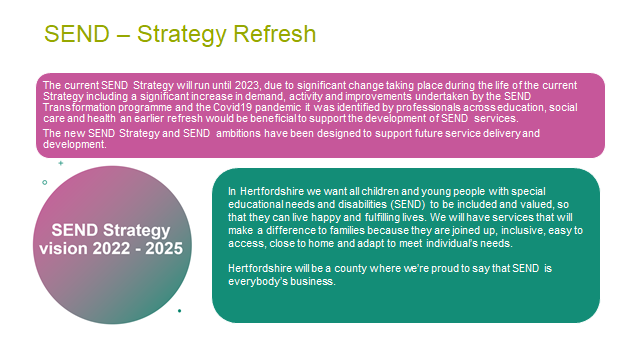 Substantial delays – (Can be defined in many different ways. We should be referring to child development and cognitive levels. This provides a clear picture of where the child is developmentally. If we use attainment or assessment tools this is or can be influenced by the quality of teaching and learning, the understanding or moderation of assessment.
Significant – needs are life-long and affect the ability to learn.
Complex – the young person has more than two co-occurring, life-long difficulties which affect cognition, social and emotional and development and learning independent life-skills. This is difficult to define as complex to one person is not complex to the next. This is often based on experience and how settings adopt common language.
Persistent – all the time, at least daily.
Signposting Support: Help and Advice Services for SEND:
0-25 SEND Code of Practice:
The 0-25(years) Code of Practice sets out four key areas of SEND:
Communicating and interacting – Children and young people have speech, language and communication difficulties which make it challenging for them to make sense of language or to understand how to communicate effectively and appropriately with others.
Cognition and learning – Children and young people learn at a slower pace than others their age, have difficulty in understanding parts of the curriculum, have difficulties with organisation and memory skills, or have a specific difficulty affecting one particular part of their learning performance such as in literacy or numeracy.
Social, emotional and mental health difficulties – Children and young people have difficulty in managing their relationships with other people, are withdrawn, or they behave in ways that may hinder their and other children's learning or have an impact on their health and wellbeing.
Sensory and/or physical needs – Children and young people with visual and/or hearing impairments, or a physical need that means they must have additional ongoing support and equipment.
Many of our pupils have difficulties in more than one of these key areas. At The Collett School and St Luke's School, many children have several diagnoses, which creates an additional complexity of needs. The SEND diagnoses (and undiagnosed traits) are lenses through which we see their needs and abilities. These lenses support our strategies and techniques, though ultimately , the individual child is who we work with to find possibilities through creating opportunities that enable them to shine.
Disability - Legal Terminology
Many children and young people who have SEN may also have a disability. A disability is described in law (the Equality Act 2010) as 'a physical or mental impairment, which has a long-term (a year or more) and substantial adverse effect on their ability to carry out normal day-to-day activities.' This includes, for example, sensory impairments such as those that affect sight and hearing, and long-term health conditions such as asthma, diabetes or epilepsy.

The Equality Act requires that early years providers, schools, colleges, other educational settings and local authorities:
must not directly or indirectly discriminate against, harass or victimise disabled children and young people.
must make reasonable adjustments, including the provision of extra aid services (for example, tactile signage or induction loops), so that disabled children and young people are not disadvantaged. This duty is known as 'anticipatory'. People also need to think in advance about what disabled children and young people might need.